Sedona Jeep Rentals offers top-of-the line Jeep Wranglers from Barlow Adventures, professionally modified to maximize safety, comfort, and ease of use for our guests. Packed with convenient and comfortable features like automatic transmissions, air conditioning and satellite radio, our Jeeps will get you out there and back in style. We pull out the carpet and replace it with heavy-duty Mopar Jeep slush mats so that getting in with dirty shoes, or spilling your coffee isn't a source of stress. The slush mats also provide better insulation from heat and cold than just bare floors. Additional modifications include:
Two-inch suspension lifts, to add clearance on our red rock trails
Heavy-duty off-road tires to maximize traction and minimize tire damage—the last thing anyone wants to do on vacation is change a flat tire!
Reinforced front bumpers so that little "oops" isn't likely to cost extra $ on return
Most of our Jeeps are 4-door models, but 2-doors can sometimes be made available on request. All of our Jeeps are capable of handling any Sedona trail with ease and comfort. We not only allow you to take our Jeeps off-pavement, we provide you with the information to do so safely—our experienced and knowledgeable staff will show you how to properly use the features of your Jeep, as well as give you some driving tips to handle any trail you choose. We speak Jeep at Barlow's, and can also provide service for our experienced 4-wheeling friends.
For guest safety and comfort, most of our Sedona Jeeps are hardtops, however soft top Jeeps may be available seasonally in limited quantities. Note that our hard top Jeeps can also be open to those beautiful red rock views with their removable t-tops stowed safely away.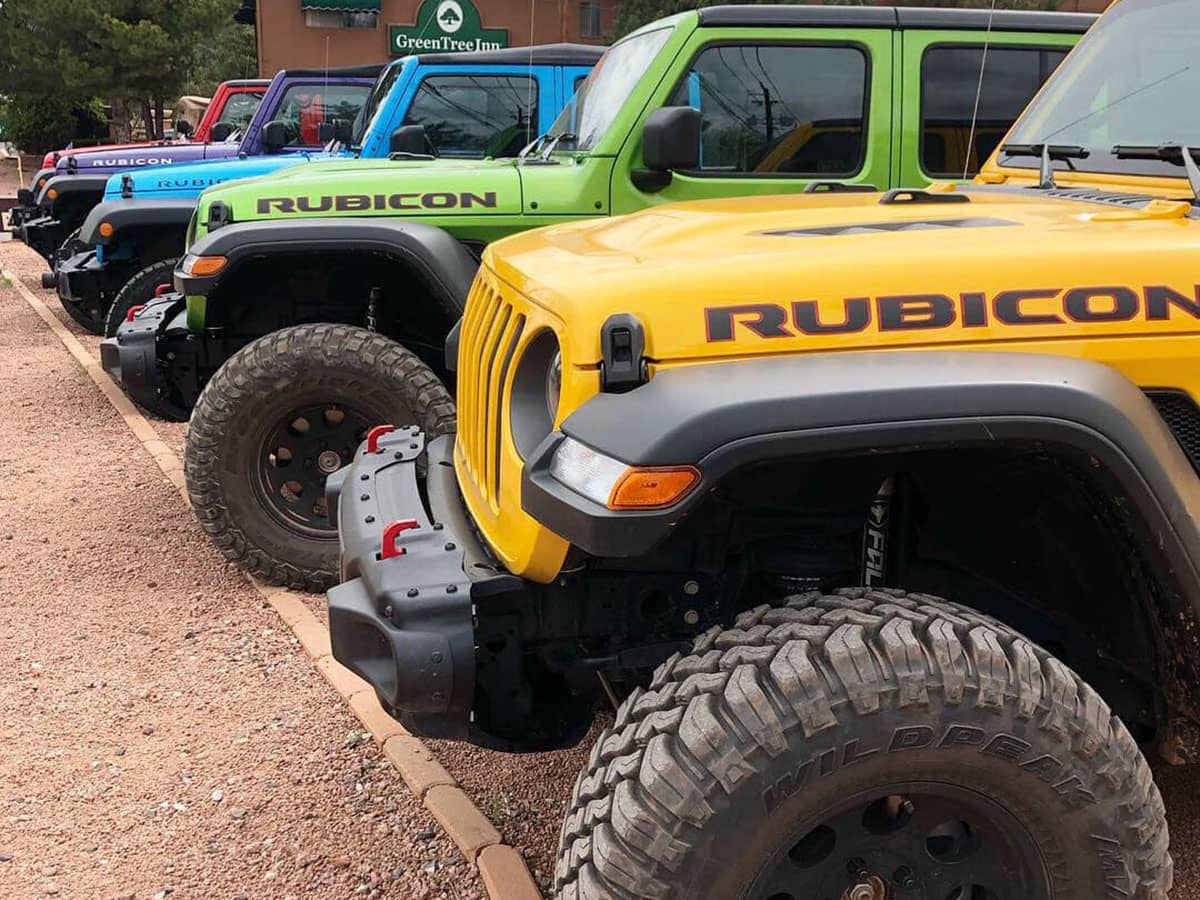 Rubicon Model Jeeps
The Jeep Rubicon JL is simply the most capable Jeep Wrangler ever produced. It was designed and engineered for Jeepers, by Jeepers. The Rubicon provides lower gearing than other models, with a 4:1 heavy-duty transfer case and 4.10 gears in heavy-duty front and rear Dana 44 axles. The Rubicon is equipped with a push-button sway bar disconnect, which allows your axle to flex better with the terrain at slow 4-wheeling speeds, providing better traction and a more comfortable ride. And the Rubicon boasts the mother-of-all-things-traction: Front and Rear Lockers at the push of a button. In the unlikely event that you find yourself in a spot where the Rubicon is struggling for traction, simply push a button to engage the Axle Lock feature and the powerful Rubicon utilizes any tiny bit of "gription" available to claw its way through. The Rubicon is NOT built for speed or to take the bumps faster—rather it is built to go SLOWER than any other Jeep, creeping its way over rocks with grace.
---