About Sedona
Sedona, Arizona is one of the most unique places in the world, with spectacular red rock cliffs, incredible year-round weather, a lively art scene, cultural events, history, and thousands of miles of hiking, biking, and Jeep trails. The town was founded in 1902 and is named after Sedona Miller Schnebly, the wife of the first postmaster. But that is just the beginning of the story. Rugged pioneer life, hardships, dreams and a little moonshine all mix to give color to not only Sedona's rocks, but the people of its past and present.
Sedona attracts nearly 4 million visitors per year—more than many national parks. Although there are only about 15,000 residents, we offer amenities that can usually only be found in the big city—world class resorts, a myriad of dining options, rich cultural experiences, and innumerable recreation opportunities. Even with all of that, Sedona city limits span only 5 miles, surrounded by 1.8 million acres of red rock buttes, wild canyons, lush juniper forests, and pine-covered plateaus of the Coconino National Forest.
The most common thing we hear from first time visitors is "I wish I had more time", but you can spend a lifetime here and never see it all. One thing everyone agrees on is this: you can't really see Sedona from the highway—you have to get into that breathtaking backcountry!
Transportation to Sedona
Phoenix Sky Harbor Airport is about a 2-hour drive to/from Sedona.
Las Vegas McCarran Airport is about a 4.5-hour drive to/from Sedona.
Flagstaff Airport is about a 45-minute drive to/from Sedona
Transportation to Sedona, from Flagstaff:
iRide Sedona Car Service: (928) 254-1622
Hertz Car Rental Flagstaff: (928) 774-4452
Ace Express www.acexshuttle.com
Arizona Shuttle www.arizonashuttle.com
Sedona Activities & Info
Red Rock Visitor Center and Ranger Station
Pink Jeep Tours www.pinkjeep.com
M Diamond Ranch Horseback Rides www.mdiamondranch.com
Sedona Adventure River & Hiking Trips www.sedonaadventuretours.com
---
Frequently Asked Questions
1. How far in advance do I need to make reservations?
We recommend at least 1 to 2 weeks in advance for holidays, but we often have Jeeps available if you call us the same day.
2. How many people fit in a Jeep?
Our 2-door Jeep Wranglers seat four. Four-door Wranglers have five seatbelts–great if you have children, or adults who don't appreciate crawling over the front seat to get in.
3. Where can I go?
Our Jeeps are permitted on ALL open public roads and 4×4 trails. Our knowledgeable and friendly staff will help you find trails suitable to your interests and desired level of adventure. We are happy to review trail maps with you, so that you will know how to find the trail, what you may expect with the current conditions, and how to handle the more adventurous parts of the trail. We have our favorite trails to recommend, but there are thousands of miles of trails in the area, so you will never run out of places to explore.
4. How many miles are included with my Jeep rental?
Rental rates include up to 150 miles per day (averaged over multi-days) and $0.35 per mile after that.
5. What if it rains?
It is unusual to get enough rain that it causes problems or closures on our trails. Our Jeeps are fully enclosable so that you may still enjoy the trails in comfort.
6. What if I get stuck or lost or break down?
Since our Jeeps are new, and we provide you with thorough trail information, it is unusual for our guests to encounter any difficulties or problems, but it does occasionally happen. If you have any questions or difficulties, please do not hesitate to call us immediately. We are happy to answer trail questions, render assistance, or coordinate any necessary recovery you may need.
7. What should I bring?
We recommend that you wear layered outdoor clothing suitable for the season and bring the following:
At least one liter of water per person
Sturdy outdoor shoes, like hiking boots or athletic shoes
Camera or smart phone
Sunscreen
Hat
Sunglasses
Don't forget that each rental requires:
Valid driver's license (25 years or older)
Credit card
Proof of full coverage auto insurance
8. Do I need "off-road" insurance?
"Off-road" is one of the most commonly misused terms in our business. Although what we do has commonly been called "offroading" for years, that is NOT what we actually do.
Jeep renters, and all public road users in this area, are required to stay ON-roads. "Off" road is when you leave the established road or trail and go romping willy-nilly across the landscape.
"On"-road is when you are driving on a named, numbered, public road or "trail" that is an established thoroughfare. Even roads like Broken Arrow and Diamondback Gulch are recognized public roads. So, even though we are using un-paved roads, we are not going "off" road. Clear as mud?
9. What about bathrooms?
Some areas have restrooms nearby, but for more remote areas you may expect bathroom stops to consist of thick patches of trees or shrubs. You may wish to carry toilet paper in a ziplock bag in order to pack out used paper products. Please keep our forests and trails clean—pack out your trash!
10. Are gift certificates available?
Yes. We are happy to take a credit card payment over the phone and send you a gift certificate or email you a version that you can print at home on standard paper. Very popular for birthday and holiday gifts for that hard-to-buy-for person on your list! Note that all drivers must be 25 or older with a valid credit card and insurance, regardless of method of payment.
11. What happens if I damage the Jeep?
We all make mistakes from time to time, and occasionally, one of our guests has an unplanned encounter with a rock, resulting in a dented bumper or mangled fender. Our goal is just to get the Jeep fixed and back out on the trail. The most common damage to Jeeps is very inexpensive, and can be settled immediately. If you have a minor mishap on the trail, here is what you might expect to pay:
Fender flare: $300
Bumpers: $1,000
Shock: $150
Windshield: $550
Tire: $350
For more extensive damage requiring a body shop, most guests choose to submit a claim to their auto insurance company to cover the cost.
Most importantly, we want everyone to be safe and have fun. Jeeps are replaceable, you and your family are not. We build and maintain our Jeeps for the utmost safety and capability on our local trails.
The most common error is just driving a little too fast. In the rocky terrain or Arizona's more adventurous trails, you are literally moving at a walking or even a crawling speed. If the Jeep is bouncing, you are going too fast and risking banging your undercarriage, loosing traction, and just generally making for a rough ride for your passengers—slow down to a crawling speed (that's why it's called "rockcrawling") and everyone will be happier.
12. Will I be charged a cleaning fee if I bring the Jeep back dirty?
Usually not. We are in the Jeep business and understand that Jeeps will get dirty. We say "The only time you are likely to be charged a cleaning fee is if there is mud above the headlights or dripping off the upholstery." Our goal is to be able to clean the Jeep quickly and have it ready for the next guest. Very rarely a Jeep is so dirty that we have to take it out of service to properly clean and prepare it for the next customer. Here are some circumstances where cleaning fees ranging from $25 to $150 may be charged:
If a guest returns the Jeep with muddy upholstery, we will not be able to use that Jeep for about 24 hours or the time it takes for us to shampoo the seats and let them dry.
If a guest returns the Jeep with so much mud that it is clogging the engine, transmission, brakes or other critical systems of the Jeep, we will not be able to clean and return that Jeep to service quickly.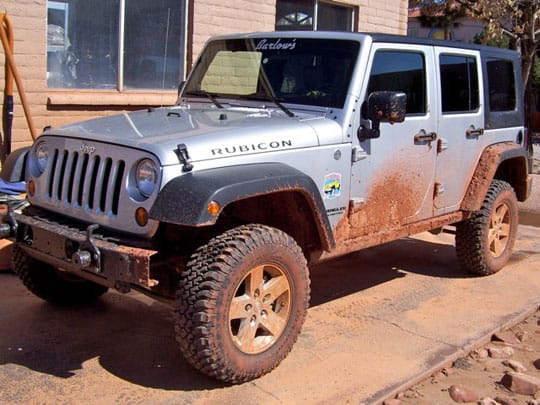 The number one reason we post information referring to "keeping the mud below the headlights" is this: if a guest drives a Jeep through water or mud too quickly, there is a significant chance that the motor can ingest enough water to cause severe engine or electrical damage, which results in an expensive recovery and repair bill–something we would like our guests to be able to avoid by just slowing down for any wet terrain. Driving responsibly not only saves the guest money but also ensures that our trails will stay open for future enjoyment.
This is a photo of an acceptably dirty Jeep (no cleaning fee would be charged for this).